One unit does it all
Heat the entire house, plus have hot water for two showers and a dishwasher at the same time, all with one small, high capacity unit.
---
Merging the mechanics
Seamless integration with existing baseboard radiator heating systems makes this a cost efficient alternative.
---
Technically in-sync
Cutting edge tech can handle the latest hydronic radiant floor heating technology.
---
Size matters
The compact design fits well in tight spaces, unlike a bulky traditional boiler system or a 40-60 gallon water heater.
---
Let it flow
The separate heat exchanger for domestic hot water creates the highest flow rate in the industry, making it suitable for even the largest home.
---
Warm House Endless Hot Water
One system heats your house and supplies all the hot water you and your family need!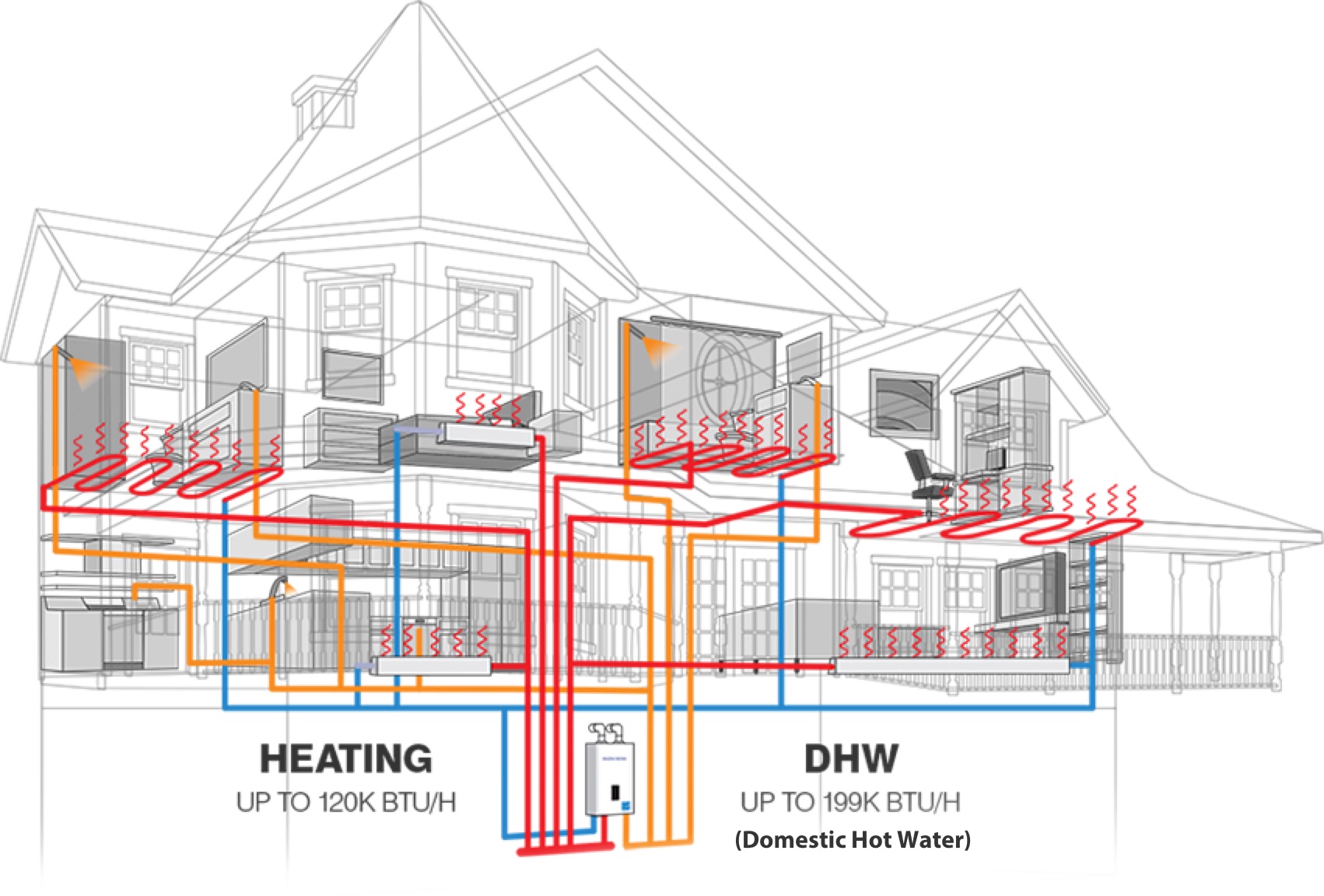 Combi-boiler Information
Request a free consultation to find out which Navien Combi-Boiler is perfect for your home.

NCB – 180E
Space Heating:
14,000 – 80,000 (BTU/H)
---
Domestic Hot Water:
14,000 – 150,000 (BTU/H)
---
Flow Rate: (DHW) – 77°F (43°C)
---
Temp rise: 3.4 GPM (12.9 L/m)
---
Super condensing efficiency
Dual stainless steel heat exchangers
SCH40, 2″ PVC venting up to 60′
½" Gas pipe up to 24′
Automatic water filling system
Integrated controls
NCB – 210E
Space Heating:
18,000 – 100,000 (BTU/H)
---
Domestic Hot Water:
18,000 – 180,000 (BTU/H)
---
Flow Rate: (DHW) – 77°F (43°C)
---
Temp rise: 4.0 GPM (15.1 L/m)
---
Super condensing efficiency
Dual stainless steel heat exchangers
SCH40, 2″ PVC venting up to 60′
½" Gas pipe up to 24′
Automatic water filling system
Integrated controls
NCB – 240E
Space Heating:
18,000 – 120,000 (BTU/H)
---
Domestic Hot Water:
18,000 – 199,900 (BTU/H)
---
Flow Rate: (DHW) – 77°F (43°C)
---
Temp rise: 4.5 GPM (17.0 L/m)
---
Super condensing efficiency
Dual stainless steel heat exchangers
SCH40, 2″ PVC venting up to 60′
½" Gas pipe up to 24′
Automatic water filling system
Integrated controls